Space of Physical and Visual Connection
Instructor: Phoebe Crisman
Individual Work
Year: 2017 Spring
Location: Philadelphia, PA

This is a mix-used public building of a wellness center and a library in the Northern Liberty neighborhood of Philadelphia. The former industrial area is now a hip new spot in the city with new developments and new businesses. With more and more people moving into the neighborhood, a new space to better serve the public is required. The two services in the building - wellness center and library - welcome everybody in the neighborhood and provide an active and educational environment.
Elevation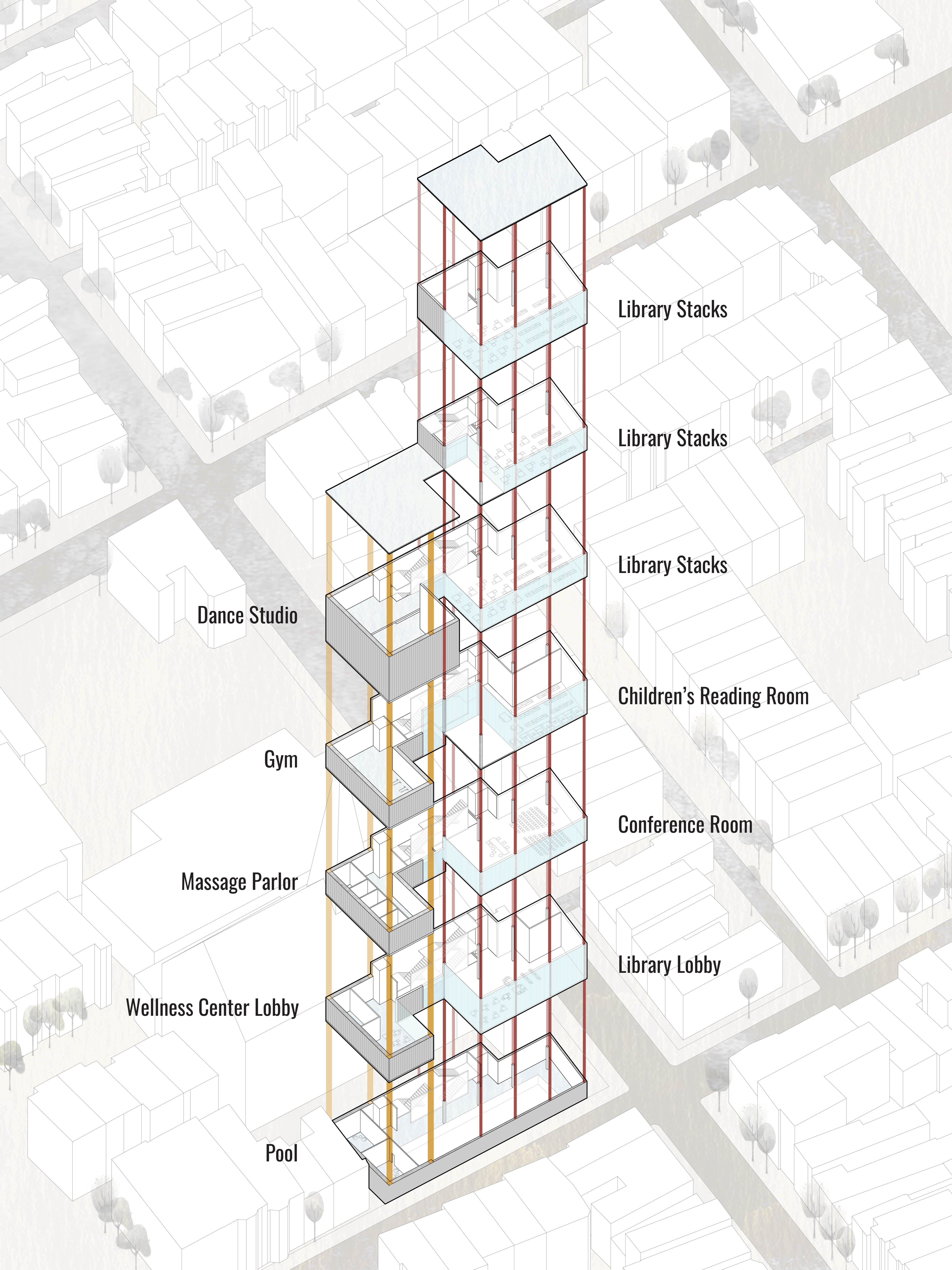 The design reflects the different emphasis of the two programs - the wellness center on the body, and the library on the mind. The body side is low and heavy with a concrete structure and concrete facade; the mind side is tall and light with steel structure and channel glass facade. The material contrast of concrete and glass symbolizes the contrast between corporeal and spiritual.

Wellness Center Section
Libaray Section
Because of the two different operating hours and users, the two programs each occupy one side of the building and have separate entrances. The two programs are joined by a scissor stair which is a shared circulation and allows encounters of people using different services in the building. From a street view, the two volumes appear to be interlocking without actually touching each other. The space in between allows light to come through and establish visual connections between the two programs.
Pool View
Libary Looking into the Dance Studio
Given programs such as spa rooms, gym, and locker rooms, the space in the wellness center is compact and intimate. The spaces in the library in contrast have higher ceilings and sufficient natural light.

The pool is placed underground for structural reasons. Natural light can come into the pool area through both the staircase and the skylight. The opening of the skylight encourages visitors on the street to peek in and come into the building.